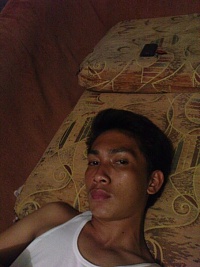 Bio
Location
Las pinas city....
Country
Philippines
Gender
Male
Occupation
secret......
School
UPHSD
Languages
tagalog,english,japanese..
About Me

NAme; argelo Ramirez NArvaez
AGe;17yrs old
nickName; [DEe]
school;University of PErpetual help system DAlta
Hometown:Las pinas city
Languages;tagalog,english
course:MArine TRasportation
STatus;single
ME;gOOD kIND HONEST =P
email: [email protected]
add me up fb and fs.. arigato..



My Interests & Hobbies

Playing pokhttp://www.triplejack.com/sub_account.phper,billards,basketball,table tennis..,..

Favorite Music

Maroon 5,Air supply,Eraserheads,Parokya ni Edgar,MYMP,Third Eye Blind,Rivermaya,sponge cola,calla lily,mihimaru GT,siakol...

Favorite Movies

X-men,gI joe, spiderman,final destination,japanese anime... twight light,starwars,all of trip,american pie...

Favorite TV Shows

GMA,abs CBn,HBO,Pbo,starmovies,jack tv,Q-tv.....

Favorite Games

DOTa,counter,online games.....

Favorite Books

HIstory book... HoRROR Books......

Favorite Sports Teams

PHilippines team.......

Player Info [More Stats]
Avatar
Zoom In
Clan
WB Member
Points (All-Time)
71,595 pts
Level
3
Chips

$

500
Buy-ins
260
Hands Played
This Level
9,926
Hands Played Total
34,265
Side Bets Completed
86
Side Bets Won
47 (55%)
Side Bets Net Profit
26

tokens

Last Active
Over 52 months ago
Last Hand Played
Oct 2 2015 9:16pm
Player Since
Oct 4 2009