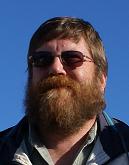 Bio
Location
In the Boonies, TX
Country
United States
Gender
Male
Occupation
Dinosaur Hunter (seismic field tech)
School
some
Languages
English and some spanish
About Me

I'm just this guy....super-happily married to the lovliest gal on the planet.

My Interests & Hobbies

Live Poker, (yes...Texas Hold'em)
metal and wood working
Dare I say....TripleJack!

Favorite Music

Rock, Alternative, Classical, and some country...no cryin' in the beer stuff.

Favorite Movies

Excaliber, First wives club, all the Die hards, The sound of music

Favorite TV Shows

The People's Court...Love how the judge puts the n00bs in their places :D

Favorite Games

Do you REALLY need to ask?

Favorite Books

Intrigue, Action, Tom Clancy, Ken Folett, Dean Koontz, etc. and ALL of Douglas Adams' books

Favorite Sports Teams

You mean there are teams???
I dont follow sports... they're not sports after little league.
Player Info [More Stats]
Admin
Avatar
Zoom In
Clan
BBQ Member
Points (All-Time)
3,950 pts
Level
4
Chips

$

3,666,500
Buy-ins
171
Hands Played
This Level
8,726
Hands Played Total
71,761
Side Bets Completed
234
Side Bets Won
130 (56%)
Side Bets Net Profit
203

tokens

Last Active
Over 69 months ago
Last Hand Played
Nov 27 2013 12:14am
Player Since
Nov 6 2005