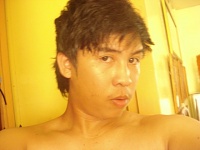 Bio
Location
DAVAO CITY
Country
Philippines
Gender
Male
Occupation
Student
School
St.Augustine School Of Nursing
Languages
Bisaya,Tagalog,English.
About Me

Syempre gwapo jud..maputi, haha chubby..BOSS daw...they call me dougz in our village..and my day is not complete if i cant play poker w/ my friends here. "SCHIZOPHRENIA"

My Interests & Hobbies

MY HOBBIES-DOTA,POKER,CROSSFIRE,BASKETBALL,CHESS,SMOKING,DRINKING ALCOHOL, AND MY INTEREST IS ,POKER BOOKS.POKER MOVIE.POKER MAGAZINE. HOT CHICK. HAHA. I DONT LIKE A NOSE TO NOSE NIETHER LIPS TO LIPS..ALL I WANT IS LIPS TO LAT.

Favorite Music

CHICAGO SONGS,AIR SUPPLYSONGS,GUNS AND ROSES SONGS..AND MY FAVOR8 ONE STUPID LOVE.

Favorite Movies

#1 TAKEN, #2 SAW I- SAW VII #3 WRONG TURN, #4 SASSY GURL, #5 WINDSTRUCK, #6 SEX IS ZERO.

Favorite TV Shows

WILLING WILLY, EAT BULAGA.PBA,NBA,DISCOVERY AND STAR MOVIES.

Favorite Games

IN COMPUTER GAMES. DOTA,CROSSFIRE,NBA2K10 AND 2K11,STARCRAFT,TRIPLE JACK.

Favorite Books

BOOK IF ELI.

Favorite Sports Teams

L.A LAKERS...L.A ALL THE WAY..BOSTON SUCKS,MIAMI FUCKS.
Player Info [More Stats]
Avatar
Zoom In
Clan
WB Member
Points (All-Time)
17,298 pts
Level
1
Chips

$

0
Buy-ins
128
Hands Played
4,343
Last Active
Over 77 months ago
Last Hand Played
May 24 2014 11:58pm
Player Since
Feb 28 2011