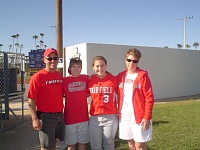 Bio
Location
Massachusetts
Country
United States
Gender
Male
Occupation
student
School
Hudson High School
Languages
English
About Me

I am a fun loving kid who loves to have fun and enjoys playing poker!I enjoy watching most sports and am a fan of the Boston Bruins!!!

My Interests & Hobbies

I like soccer and tennis and play poker almost everyday now!

Favorite Music

I love country music such as Taylor Swift, Carrie Underwood, Rascal Flatts, and Tim McGraw

Favorite Movies

I love the movies superbad, semi pro, forgetting sarah marshal, and pineapple express

Favorite TV Shows

NCIS, two and a half men, how i met ur mother, survivor, amazing race, big bang theory, and family guy

Favorite Games

fifa, madden,and shooting games

Favorite Books

fallen angels...amazing book about vietnam war recomend it 100%

Favorite Sports Teams

NE Patriots, Boston Red Sox, Boston Celtics, Boston Bruins, Manchester United,Inter Milan, and Valencia!
Player Info [More Stats]
Avatar
Zoom In
Clan
DAWG Member
Points (All-Time)
0 pts
Level
1
Chips

$

0
Buy-ins
83
Hands Played
1,491
Side Bets Completed
11
Side Bets Won
3 (27%)
Side Bets Net Profit
-50

tokens

Last Active
Over 134 months ago
Last Hand Played
Aug 16 2009 11:16am
Player Since
Mar 2 2009