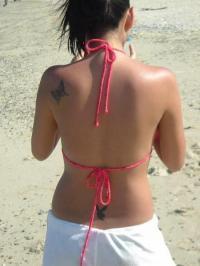 Bio
Country
Philippines
Gender
Female
Occupation
~nothing,as of now..
Languages
engish and filipino =p
About Me

~hOnestly,kahet ako hndi ko ren kilala sarili ko :)) peoplejust judge me as, "MATARAY,MASUNGET,SNOB,SOSYAL,MAARTE, SPOILED BRAT,etc..*hindi ko na nga mabilang qng ilan na nagsbi nyan saken eh* pero pag nakikilala na nila ko,lahat un akala lang nila.. *lahat kase sila inisnOb ko kea ganun*..actually,cnsdya ko tlgang ganun ung maging first impression saken,nkkapagod naman kaseng palaging mabait sa lahat ng oras.. and wala ren naman kase akong pakialam qng anu sbhin nila about me :)) I DONT GIVE A DAMN CARE! THE HELL I CARE! :)) hndi ko ikamamatay un.. kung meron lang nakakakilala sa totoong ako,isang tao plang un...*qng iniicp mong c God un,mali ka* IM PROUD BEING THIS WAY.. * ♥

My Interests & Hobbies

~listening to any kind of music.. hmmm, writing on my diary.. txtng, chatting.etc... but most of my time are spent taking care of my dad :) but i dont have any regrets with dat.. iM actually Loving it.. sO mucH ♥

Favorite Music

~any types of music will do :)

Favorite Movies

~im a die hard fan of Spongebob..*sshhh* .. haha.

Favorite TV Shows

~Spongebob,spongebOb,spongebob,spongebob,... =D

Favorite Books

~Bob Ong bOoks :) love it!
Player Info [More Stats]
Avatar
Zoom In
Clan
WB Member
Points (All-Time)
0 pts
Level
1
Chips

$

1,520
Buy-ins
66
Hands Played
737
Last Active
Over 133 months ago
Last Hand Played
Jan 11 2009 5:36am
Player Since
Jan 6 2009