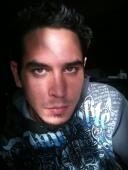 Bio
Location
United States- Mesa/Chandler Arizona
Country
United States
Gender
Male
Occupation
Dennys Cook
School
Whats that ?
Languages
English...... dumb............
About Me

:D

My Interests & Hobbies

nothing

Favorite Music

Shadows Fall, Lamb Of God, All that Remains, As I Lay Dying, Avenged Sevenfold, In Flames Pantera, Megadeth, Trivium, Metallica. Pure American Metal

Favorite Movies

All

Favorite TV Shows

Criminal Minds. C.S.I . People dying. Awesome

Favorite Games

Mind Games. . . Mind Freak !

Favorite Books

The ones in Jail.
Player Info [More Stats]
Avatar
Zoom In
Points (All-Time)
66,906 pts
Level
1
Chips

$

1,874,269
Buy-ins
1
Hands Played
25,869
Side Bets Completed
30
Side Bets Won
9 (30%)
Side Bets Net Profit
-103

tokens

Last Active
Over 41 months ago
Last Hand Played
Feb 12 2017 11:52pm
Player Since
Jun 23 2010