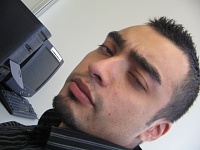 Bio
Location
Toronto, Ontario
Country
Canada
Gender
Male
Occupation
Customer Service Manager
School
School for the Arts
Languages
English, Spanish
About Me

I was formerly incrediblelogic, until I lost over 1 million chips trying to use logic against horrible poker players who go all in with 6-9 off suit. Now I'm incredibleluck! Let's hope luck works better than logic.

My Interests & Hobbies

- Triple Jacks (as long as I'm not playing with a bunch of clowns).
- Science
- Computers
- Music
- Bars
- Parties
- Hockey

Favorite Music

Everything but country music, and rock music thats slow and boring.

Favorite Movies

Half Baked, Tropic Thunder, Zombieland.

Favorite TV Shows

Intervention, The First 48 Hours, Destroyed in Seconds, Hockey, Family Guy, Simpsons.

Favorite Games

Poker!!!!!

Favorite Books

WTF are books??

Favorite Sports Teams

Unfortunately I am a Maple Leafs Fan! God forgive me. Otherwise I also like Ottawa Senators, and Montreal Canadians.
Player Info [More Stats]
Avatar
Zoom In
Points (All-Time)
0 pts
Level
1
Chips

$

990
Buy-ins
9
Hands Played
3,764
Side Bets Completed
11
Side Bets Won
6 (55%)
Side Bets Net Profit
30

tokens

Last Active
Over 101 months ago
Last Hand Played
Jan 16 2010 12:02am
Player Since
Feb 6 2009