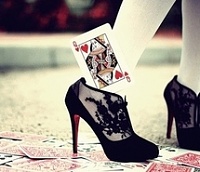 Bio
Location
caloocan city
Country
Philippines
Gender
Female
About Me

_.i hate pretenders,judgemental,
backstabbers,snobbish nd most of all
liers!if ur one of them ..start to
BACK OFF!!=)

_.i just do what i want so
deal with it ..its not about
what people are saying to me ..
its about me ..


_.i make mistakes,i am out
of control nd sometimes hard
to handle.but if u can't handle
me at my worst,,den u sure as
hell dont deserve me at my best !


"i know i'm not perfect,and i dont claim to be"!!

Player Info [More Stats]
Avatar
Zoom In
Clan
LoL Member
Points (All-Time)
106,488 pts
Level
3
Chips

$

4,710
Buy-ins
36
Hands Played
This Level
1,847
Hands Played Total
22,648
Side Bets Completed
417
Side Bets Won
208 (50%)
Side Bets Net Profit
-66

tokens

Last Active
Over 88 months ago
Last Hand Played
Mar 27 2013 2:27am
Player Since
Sep 29 2008