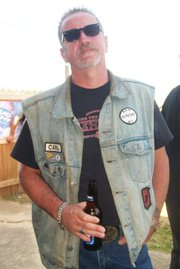 Bio
Location
A small town in USA
Country
United States
Gender
Male
Occupation
Retired
School
Of course.
Languages
English
About Me

I'm a very easy going guy. Like meeting new people and making friends. I love any reason to go riding with my brothers. Right now I ride a 98 RK. Love the outdoors. Love cook outs and hanging out with family and friends. Not a big drinker but will throw down when the time is right.The profile below is 13 years oldas of 2022 Have added many more grandkids, great grandkids as well as great great grandkids. Also have great great great neices. Still riding my harley. Am a cancer survivor for a year now. Taking life oneday at a time. I know very few will see this. :) My wife and I are raising 2 grandsons. We have 14 grandchildren and 3 great grandchildren. HEY! Imnot the old one lol I enjoy playing poker here on TJ and have met many really cool people. Poker is my passion.

My Interests & Hobbies



-----///\\-----Plz
----///-\\\----Put This
---|||---|||---On Your
---|||---|||---account If
---|||---|||---You Know
----\\\- ///----Someone
-----\\///-----Who Died
------///\-----Of
-----///\\\----Cancer
----///--\\\---Or whom maybe suffering from it.

Favorite Music

All kinds. From one end of the spectrum to the other. And everything in between. Depends on my many moods which are mostly all good...lol

Favorite Movies

Too many to list.

Favorite TV Shows

See above.

Favorite Games

Hmmmmm Have to say Poker, horseshoes, and bike games. All with warm friends and cold beer.

Favorite Books

Harley Manuals, Louis L'Amour is my favorite Author.

Favorite Sports Teams

Razorback Football, Woo Pig Sooie!!!! And most SEC Teams.
Player Info [More Stats]
Admin, Power Player
Avatar
Zoom In
Clan
LUST Leader
Points (All-Time)
3,903,491 pts
Level
6
Chips

$

6,546,548
Buy-ins
2
Hands Played
This Level
498,211
Hands Played Total
731,924
Side Bets Completed
824
Side Bets Won
456 (55%)
Side Bets Net Profit
328

tokens

Last Active
18 hours ago
Last Hand Played
Feb 2 2023 10:05am
Player Since
May 2 2008