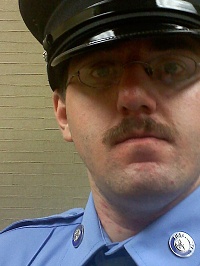 Bio
Location
Troy, New York
Country
United States
Gender
Male
Occupation
Programmer, Company Owner, Fire Fighter
School
Graduated, Some College
Languages
English and Bad English
About Me

Hi and welcome to my profile. For those of that know me, just like to say hi, and hope things are going well. For those of you that don't let me start by saying my name is Marshall. I am part of the Round Lake Fire Dept and enjoy being a firefighter. I also spend a lot of my time here on TJ as I am a total TJ addict. I have made tons of friends here, and I love spending time playing poker with them all. I am a fairly open guy, and love meeting new people as well. Feel free to say hi, add me as a friend, and ask me anything. I am also very helpful, so if you want advice, come talk to me :)

My Interests & Hobbies

Hiking, camping, rock climbing, horse back riding, medical stuff, military, web programming, computers, and most of all hanging with my friends and family.

Favorite Music

I enjoy heavy metal, both old school and new. I especially like Rob Zombie. :)

Favorite Movies

Horror movies are my favorite. I am currently looking for some real scary ones. I am open to suggestions. :-p I also enjoy good action movies, especially with Steven Segal.

Favorite TV Shows

You can usually find me watching Stargate SG-1 and Stargate Atlantis. I also love Star Trek (the new ones). And yes, my computer at home is the Starfleet LCARS System. :D

Favorite Books

I would love to get my nose stuck on a good mystery novel anytime, that, or a good sci fi adventure. Those ones are good too.
Player Info [More Stats]
Avatar
Zoom In
Clan
ARGH Leader
Points (All-Time)
25,280 pts
Level
2
Chips

$

293,462
Buy-ins
71
Hands Played
This Level
15,714
Hands Played Total
47,314
Side Bets Completed
105
Side Bets Won
53 (50%)
Side Bets Net Profit
12

tokens

Last Active
Over 75 months ago
Last Hand Played
Mar 27 2016 9:56am
Player Since
Feb 18 2008
Forum Posts
55