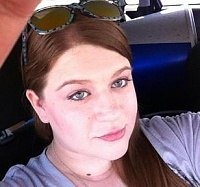 Bio
Location
Roswell, Georgia
Country
United States
Gender
Female
Occupation
Hustling the grind to get my cut.
School
Kennesaw State - Culinary Graduate 2013
Languages
English , [_337 , and some Spanish
About Me

My name is Alicia. DOB is 11/29/1986 :) Here to have a good time and not get too emotionally involved on this free website like a lot of people do here. I'm not here to cause drama and play like a donk...but are you? :O I'm genuinely a friendly and magnanimous person but sarcasm is 2nd nature for me especially online where anything goes.

My Interests & Hobbies

Astrology(Sagittarius)/WWII History/Medical Science/Photography/Zoology/Star Trek -=> Yes I'm a Trekkie and PROUD of it!/The Next Generation(Got my picture with Brent Spiner DragonCon 2010)Star Trek Voyager(I got to meet Kate Mulgrew, Garrett Wang, & Robert Duncan McNeil at DragonCon 2011 and I was on the Q/A Panel!/Jean Luc - My Maine Coon/Being One With Nature/Gardening/Being a Professional Bowl Loader:p/Freeing The Green/Sunrises & Sunsets/Campfires/Traveling Abroad

Favorite Music

30 Seconds To Mars/Avicii/Ayla/Beatles/Brand New/BT/Cake/Capital Cities/Chemical Brothers/Coldplay/Crystal Method/Daft Punk/Deftones/Disturbed/Die Antwoord/DJ Doboy/DJ Encore & Engelina/DJ Mystik/DJ Quicksilver/DJ Shadow/DJ Tiesto/Dream Theatre/Eagles/Eels/El Ten Eleven/Elton John/Enigma/Evanescence(First album Only)/Fatboy Slim/Foo Fighters/Fischerspooner/Grimes/Gus Gus/Infinity Ink/Jessie J/Jimi Hendrix/Journey/Juno Reactor/Kansas/Led Zeppelin/Lemon Jelly/Lil'Wayne/Lacunae/Linkin Park(Meteora Album 2003 & prior)/Live/Local Natives/Loess/Loreena McKinnett/Ludacris/Massive Attack/M.I.A/Mumford & Sons/Muse/Nine Inch Nails/Nirvana/OK Go/Orbital/Owl City/Paul Oakenfold/Pendulum/Pink Floyd/Portishead/Prodigy/Queen/Radiohead/Rage Against The Machine/Ratatat/Red Hot Chili Peppers/Refused/Rihanna/Robert Miles/Ronald Jenkees/Rush/Semisonic/Shpongle/Silversun Pickups/Smashing Pumpkins/Sneaker Pimps/Snoop Dogg/Soundgarden/Styx/Sublime/Switchblade Symphony/System Of A Down/Ted Nugent/Tenacious D/The Postal Service/The Glitch Mob/Third Eye Blind/Tom Petty/Tool/Wiz Khalifa/Working For A Nuclear Free City

Favorite Movies

What Dreams May Come/Robin Hood Prince Of Thieves/Dazed And Confused/Grandma's Boy/Last of The Mohicans/Highlander/Hook/Dark Knight(I miss Heath Ledger so much!!)Sense & Sensibility/The Mask of Zorro/Stealing Beauty/V for Vendetta

Favorite TV Shows

Game of Thrones, Shameless, Walking Dead, Once Upon A Time, Breaking Bad, The Americans, Salem, Orange Is The New Black, Better Call Saul, Shark Tank, Inside Amy Schumer, Key & Peele, It's Always Sunny In Philadelphia, Cutthroat Kitchen, HBO's John Adams TV Mini Series, Robot Chicken,The Simpsons, South Park, Family Guy, Aqua Teen Hunger Force, NTSFSD:SUV , Batman The Animated Series 1993-1995, Dragon Ball Z, Star Trek Next Generation, Star Trek Voyager, Quantum Leap

Favorite Games

RPG/FPS PC Games/Texas Holdem'/Euchre/Rummy

Favorite Books

Anne Rice's - Lives of The Mayfair Witches Trilogy , James Rollins - Alter of Eden

Favorite Sports Teams

Ohio State Buckeyes!! Born Columbus, Ohio where most of my relatives reside & both parents are Ohio State Alumni O-H-I-O GO BUCKS!) :) CONGRATULATIONS TO OHIO STATE 2014 NATIONAL CHAMPIONS!!!!!!!!!!!
Player Info [More Stats]
Avatar
Zoom In
Clan
IVXX Leader
Points (All-Time)
1,422,956 pts
Level
3
Chips

$

1,013,442
Buy-ins
3
Hands Played
This Level
19,151
Hands Played Total
222,499
Side Bets Completed
209
Side Bets Won
112 (54%)
Side Bets Net Profit
-114

tokens

Last Active
Over 17 months ago
Last Hand Played
Jan 10 2021 2:04pm
Player Since
Jan 21 2012
Forum Posts
1