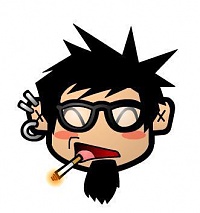 Bio
Location
Bacoor, Cavite
Country
Philippines
Gender
Male
Occupation
college student
School
UPHS-D
Languages
Tagalog, English
About Me

onindthird. i am nothing special. just a common person with a common thoughts and have led a common life. random. a man-whore. a big fan of naruto. liked by some, hated by others. flimsy. considered a whoreson by many. huge dork. self-centered. completely childish. dimwit. stonyhearted. dancer. music lover. movie nut. milk lover. likes fashion. ingenious and amusive. artistic but lacks imagination. smiles a lot and love to laugh. love buying clothes. likes pissing people off (just a fun stuff like that!). HATES FLYING ROACHES!! HATES HYPOCRITE AND THE "GADO" ONES AND I REALLY DON'T LIKE TO MEET YOU DICKHEADS!!! FUCK YOU ALL PRETENDERS!! PRETENDING TO BE SOMEBODY YOU AREN'T!!!

Favorite Music

alternative, rock, rnb, slow, house, some emo, some punk!

Favorite Movies

walt disney's national treasure flicks, walt disney's pirates of the carribean flicks, american pie flicks, adam sandler's click, longest yard, 50 first dates, big daddy, little nicky and mr. deeds, rob schneider's hot chick and the animal, deuce bigalow flicks, amityville, cellular, count of monte cristo, darkness falls, fast and the furious flicks, final destination flicks, phonebooth, scary movie flicks, shutter, so close, spiderman flicks, swimfan, the little rascals, the terminal, van wilder, white chicks, xmen flicks, pathology, iron man and my favorite ..21! :)

Favorite TV Shows

naruto, the amazing race, the amazing race asia, fear factor, TEAM KAPAMILYA! LOL

Favorite Games

poker and dota!
Player Info [More Stats]
Avatar
Zoom In
Clan
WB Member
Points (All-Time)
438 pts
Level
1
Chips

$

1,020
Buy-ins
12
Hands Played
197
Last Active
Over 106 months ago
Last Hand Played
Jun 11 2011 12:37am
Player Since
Feb 28 2008