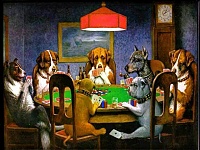 Pics
Bio
Location
Tennessee
Country
United States
Gender
Male
Occupation
Yes a grown up real job, till retirement
School
UT, the real one in TN
Languages
English, Italian, a little French
About Me

Just me, take me as I am or leave me be.

Have fallen in love with Anth, Nyx, Krafty, and a couple of others - what sweet ladies.

My Interests & Hobbies

Exploring, learning, traveling

Favorite Music

Anything that isn't twangy cry in your beer country.

Favorite Movies

Hundreds of them, from thillers to sci-fi, to suspense, getting tired of sequels.

Favorite TV Shows

LOST, MASH, Leverage, argh probably too many

Favorite Games

Football, Rugby, Poker

Favorite Books

Bible, several hundred others and a variety of authors.

Favorite Sports Teams

Green Bay, Lady Vols Basketball, Colts.
Player Info [More Stats]
Avatar
Zoom In
Clan
BC Member
Points (All-Time)
456,160 pts
Level
1
Chips

$

129,957
Buy-ins
140
Hands Played
102,259
Side Bets Completed
129
Side Bets Won
66 (51%)
Side Bets Net Profit
92

tokens

Last Active
9 days ago
Last Hand Played
Nov 22 2022 7:28pm
Player Since
Feb 21 2008
Forum Posts
2